Early Years Edit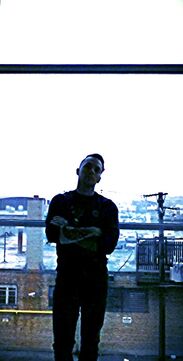 Jason Williams

Vital statistics

Position
Founder of Animal Holograms, founder/owner of Monoblack Records, freelance audio engineer, author and film score composer
Age
30
Status
Undisclosed

Physical attributes

Height
5'11
Weight
Unknown
Chicago native and proud child of the '90's, Jason Williams is a multi instrumentalist, songwriter, audio engineer, independent record label owner (
Monoblack Records
), aspiring author ('í sólinni', not yet published) and film score composer (film score composer of Chris Tyre's short film, "P.S."). Inspired as an eight year old boy in 1993 by guitarists and songwriters like Billy Corgan (Smashing Pumpkins),
Kurt Cobain
(
Nirvana
), Doug Martsch (Built to Spill) and Elliott Smith (Heatmiser and solo), Williams immediately took to the electric guitar and started writing songs emulating the
alternative rock
,
grunge
and indie music from albums being released during that time (Siamese Dream,
In Utero
, Ultimate Alternative Wavers, Dead Air).
High School and College era Bands
Edit
Williams started his first band in 1997 with a friend of his called, Point Blank. It was just the two of them until 1999, Williams' freshman year, when drummer and lifelong friend, William Cuff joined the band on drums, now called Dropout. Influenced by bands like Bad Religion, Melloncollin, Poison the Well, Anti-Flag, Operation Ivy and NoFX among many others, Williams wrote fast paced, punk rock inspired songs with a sentimental bent. In 2000, Williams was heavily influenced by bands like the Dillinger Escape Plan, Poison the Well, Muse, Radiohead, Killswitch Engage and At the Drive in. His writing became too dark and drifted too far away from mutual comfort zones which resulted in the departure of his first band mate and good friend.
In 2001, late into his sophomore year, Williams was anxious to collaborate with his good friend at the time, Jonathon Boetticher, a talented drummer, and his younger brother, Christopher, a guitar prodigy. It finally all came together when a loose, experimental group Williams started with Cuff as well as Nick Grinsvald and several others, joined forces with the Boettichers beginning the band, Being There.
The 2003 - 2011 "Searching" Phase Edit
After having played in a handful of bands beginning in 1997 up until 2002 when he left the highly experimental, metal and mathrock band, Being There, Williams stopped playing in and writing music for other bands with other people and started writing songs on acoustic guitar which he recorded on a 4-track tape recorder. He also began experimenting more heavily with psychedelic chemicals and other drugs, losing himself in a highly immersive, prolonged state consisting of large amounts and high frequency use of psychedelics and an obsessive compulsion to write and record music in search of something unique and novel as well as particular and personal to him.[1] In 2008, Williams left Chicago impulsively and traveled the country for over a year before settling for a while in San Diego, California where he continued to experiment with chemicals and songwriting. Committed to leave California in 2010 with a close friend of his, the two train hopped from LA to Chicago and then from Chicago to Buffalo, New York. After a short stay in New York with friends, the two of them flew to the UK and backpacked around Europe for the better part of a year, spending most of their time in France and Spain. Williams returned to the US in 2012 and a few months later joined the band Rocket Miner.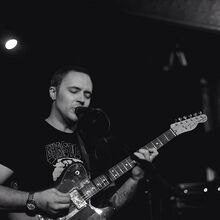 Late in 2012, Williams began a solo project, starting from scratch stylistically in an attempt to develop a sound or style separate from Tundras, which he called, Animal Holograms. The band has undergone seven line-up changes since then and though it's sound and creative direction has deviated over the years, Williams has continued to play and experiment with different ways of balancing "heavy" and "soft" and "dark" and "light" both sonically and lyrically. The result has been a sort of grungegaze/dreampop/psych-rock amalgam, with different songs experimenting with the additional influence of genres such as baroque pop, electronica, synthpop and others. An example of a more recent synthesis of Animal Holograms' core sound with baroque pop is the demo version of 'Evil Dream Repeater', a song which contains finger-picked acoustic guitar and a string ensemble. Despite the genre blurring and addition of finger-picked acoustic guitar and strings, the demo has been praised and recognized by indie music blogs like Psychgazer (a psych-rock and shoegaze music blog) and Indie in Red[2]. Animal Holograms are currently refining material for the third album, 'Toponym Hymnal', postponing the release of their second album, 'This is Not a Psych-Rock Record', which is expected to be out this summer. 'Toponym Hymnal' is expected to be released early in 2017.[3]
Live Performance and Gear
Edit
Williams plays a 2004 Fender '72 Reissue Custom Telecaster and a 2007 Fender Classic Series '72 Reissue Thinline Telecaster Natural through a 1999 Marshall Valvestate Series VS100RH 100 Watt Head going through a Marshall 4x12" cab.[4]
He sings through a FAB Chorus pedal and Cathedral Reverb, which is accompanied by Shannon's vocals (processed through a Kaossilator and several other pedals (specifics unknown).
The only guitar pedals Williams uses are a Cusack Tap-a-Delay, DD1 and a Marshall channel switch.[5]
Williams started a very small, DIY indie label called Monoblack Records in January 2015. While the label has been relatively inactive due largely to Williams' time commitments to Animal Holograms and his work as a freelance audio engineer, he has recently been reaching out to other musicians and engineers in search of a collaborator to help run Monoblack consistently and more effectively. The team at Monoblack currently consists of co-creative partner, Miles Flack and Marketing and Promotional Manager, Matthew Hardy.[6]
Band Affiliations
Edit
Animal Holograms (founder, singer, guitars, producer | 2012 - present)
Rocket Miner (bassist)
Emblems (bassist, co-writer August 2015 - November 2015)
Tundras (drums, guitars and vocals)
Taiga, taiga (2014)
Sunny Shadows
Sad Arabia (2013)
Black Mother Time (2011)
Solo era in California and Colorado (2007 - 2010)
Various short lived bands (2002-2004)
Being There (2001 - 2002)
Dropout (1999 - 2001)
Point Blank (1997 - 1999)
Film Scores
Edit
P.S. (Film score composer, sound designer, soundtrack mixer, foley artist and dialogue editor)[7]
The Gruesome Tactics of Successful Lions (unpublished)
í sólinni (to be published 2017)
References
Edit
Community content is available under
CC-BY-SA
unless otherwise noted.